(Skip the chatter, head to the good stuff)
Actually, my relentless third-grader is breaking me right now with a math problem.
But if it weren't third grade…
It doesn't matter if it's a pandemic or not: the first three words out of my nine-year-old son's mouth every single day are usually:
"What's for dinner."
And it's more of a statement than a question.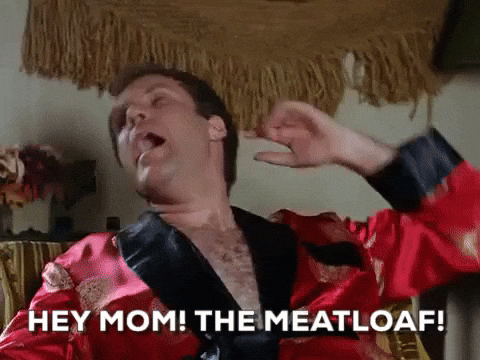 Weekday. Weekend. Holiday. Quarantine. It doesn't matter. It's like his little brain simply can not handle the suspense of what's to come at mealtime, twelve hours from when he gets up.
On a good day, I roll my eyes and tell him what's on the menu.
But man, get me on a day where I'm just not feeling it, and it's like a fire breathing dragon: "HOW DARE YOU ASK SUCH A QUESTION?!"
I and I alone am responsible for creating this dynamic of mealtime expectations! And for the most part, I'm ok with it. Dare I say I enjoy it? Most days, I do. And I take it seriously to nourish my little family with food.
I didn't always.
When I was around twenty years old and living with my dad, as a joke, he gave me a Betty Crocker Cookbook for Christmas. Real funny. I was probably SUPER pissed off at him for making fun of me for not being able to boil water. (Confession: I could boil water. I just didn't want to boil water because I liked to be "spoiled" by him. And my definition of being "spoiled" was coming home from class to dinner in the microwave waiting for me.) Furthermore, what twenty year old wants a freaking cookbook for Christmas?! I wanted a cute outfit from The Limited that we had picked out together, not a hardcover Betty Crocker Cookbook.
That cookbook sits in my kitchen to this day.
But it took a looooong time for me to appreciate it. Even when I was married and had my daughter, I still wasn't "into" prepping meals.
If you ask her what her favorite comfort meal is, my daughter will say, "grilled cheese and peas." Sounds gross to me because I HATE peas. (Bleh.) But when she was little, I worked full time, and it was only her and I for dinner most nights – so I would make the quickest thing I could. And there were only three types of single-serve frozen vegetables available: corn, peas, and Brussel sprouts (she still loves all three).
As my daughter grew, I had more time to invest in meal prep, especially when I discovered my gluten intolerance and could finally eat without feeling nauseous all the time, so I began collecting and following recipes. 
I also felt like mealtime was a way for us to connect more as my husband was able to be there once he was out of residency. I firmly believe in the power of shared meals.
I had to start somewhere in the kitchen, and that somewhere for me was with someone telling me what to do. 
If you know me, then you know: I am a total rule follower. It's a life skill that I acquired for survival as a kid (and have passed onto my kids to give them something to talk about in therapy someday). When I don't follow the rules (and there have been plenty of those times trust me), I regret it every time because the consequences are always extreme (except for the time I hopped in a car full of boys when I was 15 and met my husband and wasn't allowed out for like two years in high school). I'm just that person. My husband will make the same illegal turn 100 times and never once get pulled over. I make the same turn ONE time: lights, sirens, and a ticket (true story).
So in the kitchen, I am no different and am great at following a recipe. But not a freelancer with the food yet… I say YET. (I have goals.)
And through the years, with a lot of trial and error, I've learned to decipher pretty well what's going to differentiate a delicious recipe from one that's just meh. It's become a hobby. And a little game I like to play with my family to see what's a keeper and what isn't.
I generally average one new recipe per week, which I realize sounds crazy to some. But it's also my job! I prepare a seven-day meal plan for all of my clients based on their preferences and any dietary restrictions, and I prefer only to recommend recipes I've personally tried.
That's all in my "normal" life.
As we all know too well, nothing is "normal" about pandemic life.
From access to affordability to motivation, things have changed.
But we are very fortunate that those changes for us are one of privilege, with some valuable takeaways moving forward.
We've had to get creative with our food sources right now to access what we want or need, so we are supporting local businesses way more than we used to. Something we can do moving forward even after the pandemic is over.
I also find myself not being as wasteful. We are eating everything we are buying and cooking, and I like that. Previously, I wouldn't think twice about tossing something I didn't get around to cooking or eating – that feels incredibly irresponsible to me now and I'm even a little embarrassed by my former ways. A few things are slipping through the cracks still, and food storage is something I'm working towards improving to get better at not being wasteful.
Motivation is a whole other story.
I'm surprised to say that I don't necessarily feel UNmotivated to cook most days.
I still have to meal plan, because we need to prepare in advance as to where we are going to source our food.
But mealtime has been different. Slower. Whenever we want instead of a set time.
Everyone in my family seems to want familiarity with our meals. We've been eating a lot of our favorites. And I want nothing but comfort food, no matter what the weather is.
Because of that, I haven't felt like experimenting or straying from the tried and true.
Things started to get a little boring though. Maybe that's also the monotony of the stay at home orders that seem never to be ending.
So last week, I decided it was time. Time for me to have a little adventure in my life. Time to try a new recipe! That's about as adventurous as I can get right now. So it was pathetically exciting!
And it felt meditative for me to follow the recipe, to not think about anything else outside my kitchen. It gave me a familiar feeling and that made me happy.
So as another way to expand my energy beyond these four walls, here are our family's top 10 favorite recipes. I hope they will inspire a shared meal, spark your family to try something new, or at the very least give you a funny story about the time you asked your kids to eat ___________!
Top 10 Family Favorite Recipes
Requirements: All four of us must enjoy these meals in some way to make our top 10!
Disclaimer: Please don't get hung up or intimidated with words like "paleo" or "whole 30"! All it means is that these recipes contain natural real food ingredients – which is the best way to taste food 🙂
Information: Coconut Aminos is a soy-free version of soy sauce – you can easily use regular soy sauce if you tolerate it, GF Tamari or try something new and use the Coconut Aminos 🙂 Some of these recipes use different types of oils – either try them or don't- replace with extra virgin olive oil if that's what you have (please just NEVER replace with any type of vegetable oil!)
Advice: I have been at this for a long time and my kids didn't like trying new things overnight… it can take up to fourteen times for a kid to like a new food! Keep your stress level low and be ready to serve up a few quick snacks if you need to.
Cheers!
(And we are ordering pizza tonight – that's "what's for dinner"!)
Liz